Welcome to my A to Z Challenge blog series titled WTF - Weird Things in Folktales! Find the introduction post (explaining the theme) here. Find all other participating blogs in the comments of each day's post on the main blog! You can also follow us on Twitter and Facebook.
In the Thompson Motif Index, A stands for
Mythological Motifs
(almost 3000 of them) - things such as "
A0 - Creator
" or "
A1411 - Theft of light.
" But since we are talking about mythology, as you can probably imagine, it was quite hard to pick the strangest one - or even just pick one (see
Runner-ups
at the bottom of the post). After some searching and some hesitation, I finally decided on:
A2211.5 - Shrew blows nose into snout
... mostly because it is a darn cute tale, and it features two of my favorite animals.
The story is from a Batanga storyteller, who heard it from
Bulu
(Fang) people, and it features two friends:
Unyunge, the Elephant Shrew
, and
Po, the Lemur
. They live in the Town of Beasts as neighbors, which sounds like a very civilized place - except they do not possess fire. One day, Po gets the bright idea that Unyunge should go and get fire from the humans who live in the Town of Men. The shrew agrees, but asks his friend to watch for his return:
"Keep an eye on the road, don't even blink."
So Po doesn't.
The shrew scurries off to the town of men, but finds it abandoned. Going from house to house he looks for fire, and finally locates some smoldering embers in a hearth. Unyunge starts blowing on the embers - and blows, and blows, and
blows
, until his little nose turns into a long snout. With the fire properly rekindled, he returns the way he came, and meets his friend. "What has made your eyes so big?" he asks Po. "What has made your snout so long?" asks the lemur in return.
And ever since then, lemurs have large eyes, and elephant shrews have long snouts.
Mythology. It's not all about gods.
You can read the original text
here
.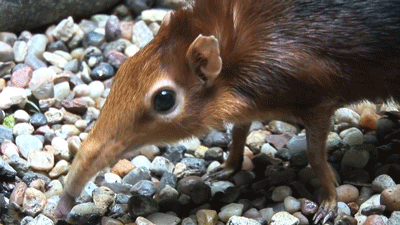 Runner-ups
A112.11. Child born from union of God with hen
A123.8. Goddess with one-and-a-half buttocks
A137.8. Small-pox deity rides nude on an ass with the half of a winnowing fan for an umbrella and with a swing in one hand and a broom in the other
A511.1.4.4. Culture hero creates a companion from a toenail
A526.9. Lightning flashes from armpits of hero
A714.6. Sun and moon as spangle which falls from creator's forehead into his own urine
A788.4. Shooting stars are star-dung
A1046.1. World-eclipse ended by bat making sun smile
A1099.3. World turned topsy-turvy and eaten by an earthworm
A1281.4. Men originally self-luminous
A1319.3. Why ear-wax is inside the ear
A2211.5. Shrew blows nose into snout
A2211.15. Goddess scatters pubic hairs on fish: why he has so many bones
A2284.4. Elephant tricked into eating own testicles
A2385.1. Why dung of ass is triangular
A2433.5.6. Why butterflies haunt urine-impregnated places
A2726.1. Curse of tale-telling banana affects all others